What kind of work pants are right for you?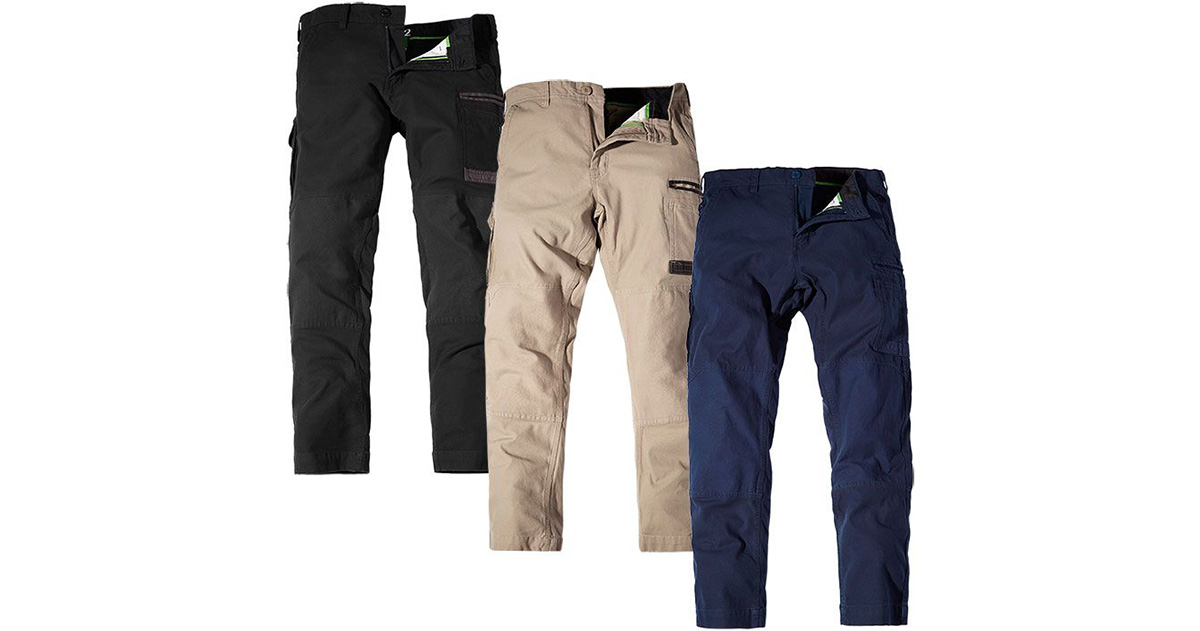 What kind of work pants are right for you?
Having the right work pants for the job can make all the difference. A comfortable pair of pants can be the difference between feeling stressed and irritated on the job or being able to give your all and feel good doing it.
Depending on what industry you're in, you may need pants with specific features like stormproofing to protect against water and wind or hi vis to work at night. When you don't need pants with speciality features like marine-ready waterproofing, comfortable and durable pants will do the trick.
If you want help finding the best work pants for you, we cover a few things to look for and some of our top choices in this article.
General Workwear Pants
General workwear pants are suitable for daily use. They may be water-resistant and windproof, but they aren't designed specifically for those environments.
Good general use pants should be comfortable and versatile so you can toss them on for practically any use. It's also important that they're durable so they don't have to be replaced frequently. Getting a few pairs of high-quality work pants can not only save you money, but they'll feel better when you're wearing them too.
Best general work pants
Best general work pants for women
While many workwear pants are unisex, some are designed specifically for men or women. Here are some of our top choices for women's workwear pants:
Hi-Vis Work Pants
Hi-vis pants are any pants that meet the hi-vis requirements from Standards New Zealand. They will be in orange or fluorescent yellow so that they can be easily noticeable by other workers and civilians. Many come with reflective strips for additional visibility.
Depending on your job, you might need hi-vis clothing for Day Only (D), Night Only (N), or Day/Night (D/N). We have an article dedicated to Hi-Vis workwear if you'd like to find out more at What is hi-vis clothing?
Best hi-vis work pants
Here are some of our top choices for hi-vis work pants:
Weatherproof Winter work pants
Comfort is important when you're hard at work. One thing that will get you uncomfortable real fast is bad weather. If wind or rain get through your clothes you can feel cold and miserable in no time.
Weatherproof pants are designed to combat these weather conditions. With higher-end weatherproof pants, you can go out in storms or good weather and hardly notice a difference!
Each kind of resistance has its own measurement specifications. Waterproofing, for example, is often rated in mm like 5000mm. As a general rule of thumb, you can typically stand out in the rain for 1 hour without getting wet for every 1000mm. So you would get 5 hours of waterproofing with 5000mm in general. The higher the rating, the more waterproofing: it's not uncommon to get 20000mmm or above for fishing work pants and jackets.
Best Weatherproof pants
There are several good pairs of weatherproof work pants depending on how much protection you need.
Jeans and Denim
Suitable for work and casual use, jeans and denim are a popular and versatile type of work trousers. A good pair will be durable for tough jobs while also being stylish and practical. Jeans are typically made from denim, a long-lasting fast-drying fabric that is easy to iron. Denim also has high breathability and moisture wicking on higher-end fabric.
Best jeans and Denim
There are many popular types of jeans and denim, but we've found that these ones are also suitable as good work pants:
Corporate Uniform Clothing
What about work pants for indoor or corporate settings? Choosing good quality work pants for this kind of work will ensure you have a comfortable and stylish fit. When you need to stay in the same pair of work pants for long days at the office, it helps if they look and feel good!
Best Uniform clothing
Here are some of our top choices for uniform or office clothing:
Speciality Work Pants
If you have a speciality job and need additional protection, you'll likely be able to find work pants designed for your particular job. Some manufacturers make these speciality pants available at several shops for purchase. Other times you may need to go to a speciality store.
If you need help choosing the right winter work pants or want to see our selection and try some on yourself, you can also stop by our store in Invercargill. You can also get in touch with us by phone or on our contact page if you have a quick question.